Cuero Goes the Extra Mile to Support Local Businesses: Explore this Friendly Community
Tuesday, December 07, 2021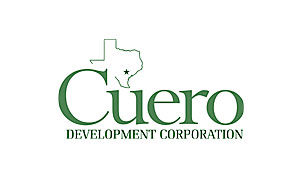 Cuero is in the heart of South Texas, the county seat of DeWitt County and located in the Eagle Ford Shale oil and gas play. Centrally located, businesses in Cuero are 28-minutes from Victoria, 1 ½ hours from San Antonio and Corpus Christi, 2 hours from Austin, 2 ½ hours from Houston, and just 4 hours from Dallas/Fort Worth. This centrality is beneficial for companies looking to operate throughout Texas, while benefiting from a low-cost, low-traffic and high-value community - Cuero.
There's plenty of room for growth in Cuero's DeWitt Industrial Park. For sale by GVEC, all of the infrastructure is in place and there are four sites available ranging from 1.3 to 4 acres.
Historic Downtown is Full of Charm
What makes Cuero so special is its quality of place. The community is incredibly charming. The majority of buildings downtown have undergone exterior renovations thanks, in part, to the Main Street Historic District Facade Grant Program administered by the Cuero Development Corporation (CDC). As one blogger put it, "Who needs Hollywood when you have Cuero, Texas?" This classic Texas downtown is now attracting visitors from throughout the region for annual events like Christmas in the Park - a light display that brings over 100,000 people to the community each year. These events combined with the city's new parks and schools, beautiful lake, Chisholm Trail Heritage Museum, and a championship high school football team, make Cuero an ideal place to live. There's always something to do in this friendly community, only without the big-city congestion.
Cuero is the Center of Activity in the Heart of South Texas
Cuero is a hub of activity for the 20,340 people who live in DeWitt County. The city is home to award-winning Cuero Regional Hospital, recognized as one of the best rural and community hospitals in the country by Chartis Center for Rural Health. County residents also do much of their shopping here, leading to investments by companies like Brookshire Brothers, an employee-owned, 100-year-old grocery chain based in Lufkin, Texas. They are on schedule to open a 40,000-square-foot store in Cuero Retail Plaza. "With this new venture, we look forward to working with and serving the people of DeWitt County for many years to come," said John Alston, President/CEO of Brookshire Brothers. The CDC gave the company a $150,000 grant to help fund their expansion into the city.
Investing In Growth
The CDC actively collaborates with the city and community leaders to invest in economic growth, both through direct business support and through strategic work. For example, Cuero has conducted an airport feasibility study that could pave the way for a future airport expansion, taking the Cuero Municipal Airport with a 2,800-foot runway into a world of new possibilities.
Cuero Offers Direct Support to Local Businesses
Cuero Development Corporation offers grants to companies who complete the Business Retention and Expansion Program. This expansive program can be used by businesses that collect, or will collect, sales tax as a result of improvements. For example, Monster Burger was awarded $10,000, money that helped to pay for exterior restaurant improvements. Bahnhoff Cafe also received $10,000 through the program to help pay for a roof improvement and HVAC upgrades. Cuero Lube & Tire used their grant money to pay for the purchase of a new lift.
The CDC also offers a Business Start-Up Program, Main Street Historic District Facade Program, Enterprise Program, and Community Service Program. The Business Start-Up Program, for example, offers rental assistance for new businesses, and will pay the landlord up to $500 monthly for six months. The Main Street Program helps to pay for exterior building improvements. The Enterprise Program helps to fund major projects and the Community Service Program supports non-profits. Combined, these programs allow the CDC to support a wide range of businesses that contribute to the overall strength of Cuero's economy.
The CDC Board of Directors also allocated $600,000 to offer relief assistance to local Cuero businesses in the wake of COVID-19. To date, $506,000 has been awarded to just over 100 businesses through rental assistance and utilities reimbursement programs,
The Role of the CDC
Cuero Development Corporation spearheads economic development for the community and is actively working to recruit new businesses to the area. The organization recently won two awards from the International Economic Development Council (IEDC) for their work promoting the community and supporting existing businesses. "We're very excited to be recognized in multiple excellence categories. The awards are reaffirmation of what can be accomplished when all community stakeholders come together as a team with a shared vision for economic development retention, expansion and recruitment for Cuero. I want to especially thank the CDC Board of Directors, leadership teams from the City of Cuero, Cuero Chamber of Commerce, Main Street Program, Cuero ISD and other city foundations, commissions and the faith community for their continued efforts," said CDC Executive Director Bobby Seiferman. The impact of the digital marketing campaign has been measurable. They are receiving calls from site acquisition firms as a direct result of the programmatic digital marketing and content pieces utilized.
Anyone who is interested in learning more about doing business in Cuero is invited to contact Bobby Seiferman, Executive Director of the CDC, at bseiferman@cityofcuero.com.