Our Communities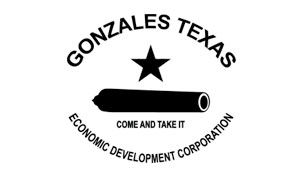 Gonzales was the site of the first battle of the Texas Revolution on October 2, 1835. The internationally recognized sign of freedom, the Come and Take IT flag was born from that battle. Today, Gonzales still boasts its place in the Texas Revolution but is also home to some significant business and industry including Adams Extract & Spice, Purina, Tyson and Kitchen Pride Mushroom Farm. In early 2020 BYK Industries, based in Germany, completed a $50 million expansion in the City.
The Texas Gonzales Northern Rail (TXGN) serves the area with connections to Union Pacific and the Port of Houston. The City is the County Seat for Gonzales County. The Gonzales Memorial Museum, built by the State of Texas in celebration of the Texas Centennial in 1936, houses the original Come & Take It Cannon. Gonzales is located 15 miles south of Interstate Highway 10, 70 miles east of San Antonio, 70 miles south of Austin and 130 miles west of Houston, Texas.
View the Gonzales EDC COVID19 GRANT APPLICATION
Gonzales Economic Development Corporation
Jennifer Kolbe, Executive Director
830.672.2815
gedc@gonzales.texas.gov
Gonzales, Texas
Population
Population
Growth Rate
0.44%
Housing & Income
Income Projection
Median Household
$47,286 $51,131
Average Household
$70,080 $76,702
Per Capita
$24,200 $26,457
Workforce
2021 Retail Trade Businesses
Businesses
64
Employed
812
2021 HealthCare/Social Assist
Businesses
24
Employed
567
2021 Prof/Scientific/Tech Service
Businesses
26
Employed
437
2021 Accommodation/Food Service
Businesses
42
Employed
403
2021 General Merchandise Businesses
Businesses
7
Employed
364
2021 Educational Services - Businesses
Businesses
9
Employed
348
Average Commute Time
17 min.
Resident Commuters
2,494
Non-Resident Commuters
614