Adams Extract & Spice
3217 Johnson Rd • Gonzales, TX 78629
United States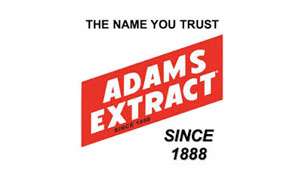 Adams® Extract traces its beginnings back to 1888 when John Anderson Adams sold extracts in the harsh Michigan climate. In 1905, he moved his family to Beeville, TX. At the time, most vanilla was sold to pharmacies and was often labeled "Do not bake or freeze." John A. Adams, whose imagination was stirred by his wife's yearning for a flavoring that wouldn't bake or freeze out, announced that he could produce a better vanilla than the one his wife was currently using. Working with just $6.71 worth of materials on top of an old icebox, Adams discovered the formula he wanted. To test this product, his wife whipped up a cake for the family to try. "John, this is the BEST flavoring I have ever used," she announced. "Well, that's old man Adams BEST," he responded. The name stuck and Adams Best® was born!
Today Adams Extract & Spice LLC produces more than 100 extracts, spices and food colors in a variety of sizes.

As a full service ingredient company, Adams Extract serves a variety of end users in the food industry under the Adams, CTI, REX, Neustra Casa and Flavor a la Carte labels. From bottles of food coloring found on grocery store shelves to a container of raw spices for a multi-million dollar meat plant, Adams Extract continues to produce the finest of extracts and spices.