AW Texas Begins Manufacturing Transmissions in Cibolo, Texas An Uncommon Story of Success
Friday, February 04, 2022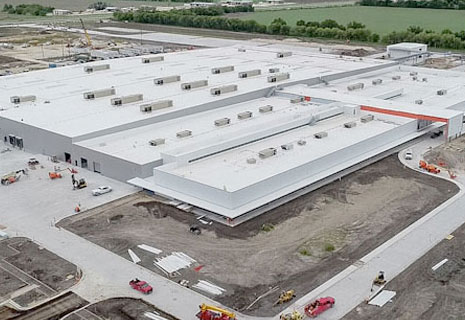 In September, the first transmission rolled off the line at AW Texas, a subsidiary of Japanese automotive giant Aisin Corporation. AW Texas, a producer of automatic and hybrid vehicle transmissions, invested more than $400 million in the site and currently employs 400—a number that is expected to rise to 900 as Phase II of the plant gets underway.
The story of AW Texas is a good one and one that goes against all the norms of economic development and site selection. In 2013, GVEC purchased 159 acres of farmland along Interstate 10 between Seguin and San Antonio, Texas, with the vision to attract a large commercial interest. This type of commercial interest would allow for the build-out of water, wastewater, gas, electric and fiber infrastructure, ultimately increasing the economic viability of this I-10 corridor and the entire region. In 2018, officials with Greater SATX brought Aisin officials to view the site, and negotiations began.
GVEC negotiated agreements and provided funding for not only electric infrastructure, but for water, wastewater and natural gas as well—the nearest of which was located almost 8 miles away from the site. Construction of a new substation to serve the factory is slated to begin in early 2022 with capacity for future expansion in mind.
GVEC worked diligently with multiple government, business and public-utility partners to bring the project to fruition: the City of Cibolo, Guadalupe County, Governor Greg Abbott's Office and TxDOT all played major roles. GVEC is thrilled to have helped coordinate this project, the largest of it's kind in the Cooperative's 84-year history.