Our Communities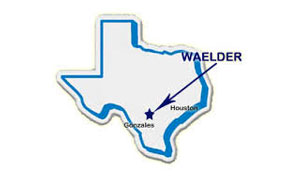 The City of Waelder is a small rural community located in Gonzales County and strategically located on Interstate Highway 10 and Highway 90 – between Houston to the east and San Antonio to the West. It was named for Jacob Waelder, a prominent San Antonio attorney. Waelder is home to a Cal-Maine Farms facility, the largest producer and marketer of shell eggs in the United States.
City of Waelder
830.788.7331
info@cityofwaelder.org
Waelder, Texas
Population
Population
Growth Rate
0.19%
Housing & Income
Income Projection
Median Household
$45,107 $49,405
Average Household
$62,106 $68,637
Per Capita
$22,368 $24,541
Workforce
Retail Trade Businesses
Businesses
5
Employed
320
Food & Beverage Stores
Businesses
4
Employed
315
Manufacturing Businesses
Businesses
1
Employed
300
Educational Services - Businesses
Businesses
4
Employed
118
Public Administration
Businesses
6
Employed
49
Food Service/Drinking Estab
Businesses
3
Employed
15
Average Commute Time
0 min.
Resident Commuters
449
Non-Resident Commuters
130